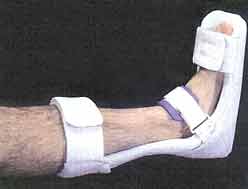 Overview
Bone spurs (retrocalcaneal spur, or exostosis) can develop not only on the back of the heel, but also on the toes, mainly around the fifth (small) toe. Most often, they occur next to the toenail on the outside of the toe; on the inside of the toe near the tip, where the fifth toe presses against the fourth toe; and on the inside of the base of the toe. Bone spurs can also occur on the sides of the toes. This is usually due to wearing shoes that are too tight in the toe box, which causes the toes to press against each other. Bone spurs may also develop in the arch area of the top of the foot; this area becomes painful when you tie your shoelaces tightly or exert other pressure on that part of the foot. Formation of spurs in this area is often associated with arthritis.
Causes
An individual with the lower legs angulating inward, a condition called genu valgum or "knock knees," can have a tendency toward excessive pronation. As a result, this too can lead to a fallen arch resulting in plantar fascitis and heel spurs. Women tend to have more genu valgum than men do. Heel spurs can also result from an abnormally high arch. Other factors leading to heel spurs include a sudden increase in daily activities, an increase in weight, or a change of shoes. Dramatic increase in training intensity or duration may cause plantar fascitis. Shoes that are too flexible in the middle of the arch or shoes that bend before the toe joints will cause an increase in tension in the plantar fascia and possibly lead to heel spurs.
Symptoms
Heel spurs result in a jabbing or aching sensation on or under the heel bone. The pain is often worst when you first arise in the morning and get to your feet. You may also experience pain when standing up after prolonged periods of sitting, such as work sessions at a desk or car rides. The discomfort may lessen after you spend several minutes walking, only to return later. Heel spurs can cause intermittent or chronic pain.
Diagnosis
Because the diagnosis of heel spurs can be confused with tarsal tunnel syndrome (as described earlier), most surgeons advocate performing a tarsal tunnel release (or at least a partial tarsal tunnel release) along with the plantar fascia release. This surgery is about 80percent successful in relieving pain in the small group of patients who do not improve with conservative treatments.
Non Surgical Treatment
Get some rest. You need to stay off of your aching foot as much as possible for at least a week. Think about possible causes of the problem while you're resting and figure out how you can make some changes. Some actions that can contribute to heel spurs include running too often or running on hard surfaces such as concrete, tight calf muscles, shoes with poor shock absorption. Ease back into your activities. In many cases, you'll be in too much pain to go ahead with a strenuous exercise routine that puts pressure or impact on your heel. Listen to your body and switch to different activities such as swimming or riding a bike until your heel spurs improve.
Surgical Treatment
Have surgery if no other treatments work. Before performing surgery, doctors usually give home treatments and improved footwear about a year to work. When nothing else eases the pain, here's what you need to know about surgical options. Instep plantar fasciotomy. Doctors remove part of the plantar fascia to ease pressure on the nerves in your foot. Endoscopy. This surgery performs the same function as an instep plantar fasciotomy but uses smaller incisions so that you'll heal faster. However, endoscopy has a higher rate of nerve damage, so consider this before you opt for this option. Be prepared to wear a below-the-knee walking cast to ease the pain of surgery and to speed the healing process. These casts, or "boots," usually work better than crutches to speed up your recovery time.
Prevention
You can help prevent heel spur symptoms from returning by wearing the proper shoes. Customized orthotics and insoles can help relieve pressure. It is important to perform your exercises to help keep your foot stretched and relaxed.